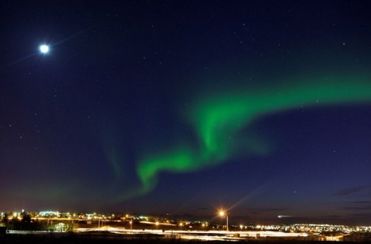 Day 1: Arrival and Northern Lights Hunt
Arrival and Northern Lights Hunt
Arrival in Keflavik, Iceland in the morning.
Transfer to accommodation at hotel, located in central Reykjavik
Northern Lights Hunt Tour in the evening.
The Northern Lights, also known as the Aurora Borealis are a spectacular natural phenomenon, often seen dancing around in fantastic colors across the Icelandic Arctic sky.
The Northern lights are caused by the interaction of particles from the sun with the upper atmosphere near the North Pole. That creates this wonderful light effect, known as the Aurora Borealis. *Please note that the Northern Lights are a natural phenomenon and sightings, therefore, cannot be guaranteed.