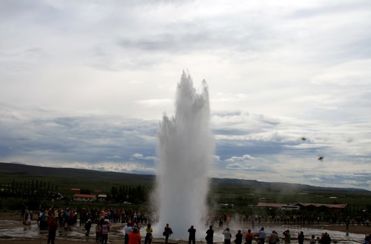 Day 1: Arrival and The Golden Circle
A driver will greet you at Keflavík International Airport and take you to your hotel in Reykjavík. In the afternoon, you will take a Private tour of the Golden Circle and see waterfalls, geysers, and Thingvellir National Park. Gullfoss and Geysir are on the way tool The Tectonic plates are visible in Thingvellir National Park. Fun day with an excellent private guide.
Thingvellir National Park, a UNESCO World Heritage Site, is one of Iceland's most fascinating places due to both its impressive geological formations and for the significant role it plays in the country's history as the original meeting site of the Icelandic parliament, the oldest existing parliament in the world.
After a stop there, we'll head east and you'll soon see steam rising from the Haukadalur geothermal area that is home to Geysir. During our stop here, you can explore many hot springs and bubbling pools including Geysir, the geyser from which the English word is derived. Geysir itself is now dormant, but another geyser, Strokkur, erupts at 5-10 minute intervals.
We'll then continue on to Gullfoss, a majestic double waterfall that tumbles 105 feet into the canyon of Hvitá, one of the longest rivers in Iceland.