Highland Adventure Photo Tour
The highlands are an amazing place to visit, and always full of surprises. The entire highland area is an exceptional place to photograph, as the landscape is full of contrasts and the light and colors are always changing. The mountains attract clouds and rays of the sun often stream through the layers of clouds. The vegetation is mostly moss, so you will see volcanic black sand against varied shades of green colors of moss, and in the Landmannalaugar area, you will see light colors of rhyolite. There are also rivers and streams that help create patterns in our photographs.
Duration: 6 Nights, Summer
Price: From $5.395 per person
Highlights
The Icelandic Highlands in Summer
Jökulsárlón and Fjallsárlón Glacier Lagoons
Landmannalaugar Geothermal Area and Rhyolite Mountains
Included:
- All accommodation costs during the tour (except in Reykjavík).
- Breakfast from the second day until the last day, picnic or light restaurant lunch every day, dinners from day one until the second to last day.
- Professional English speaking driver guide and photographer.
- 4X4 truck (Jeep) and gasoline.
Not included:
- Flights to/from Iceland.
- Transportation to and from airport (although this can be arranged).
- Hotel accommodation in Reykjavík.
- Travel insurance.

Climate and clothing recommendations:
The Gulf Stream is what makes Iceland inhabitable, and without it, the whole country would most likely be covered by ice. The winters are fairly mild and summers are cool. The weather can be unpredictable and very windy and rainy at times. A popular saying in Iceland is "if you don't like the weather right now, just wait five minutes" as you may occasionally experience the four seasons all in one day: sunshine and mild temperatures to windy, cool temperatures with rain or even snow. The average temperature in January is 0 C (32 F) and the average temperature in July is 12 C (54 F)
In the view of the climate description above, we can only advise visitors to be prepared for everything. No matter what time of year you plan to visit Iceland, always pack some warm and water resistant clothes, hats, gloves and good walking shoes.
Clothes:
Practical list, independent of the season of the year
1. Warm underwear
2. Sweater or a warm jacket/coat
3. Wind- and waterproof overcoat and over trousers
4. Extra pair of warm socks
5. Gloves and a cap
6. Hiking shoes (waterproof boots for winter photo tours)
7. Slippers and possibly light trainers
9. Sunglasses (optional!)
10. Electric converter (Iceland uses 220 volts)
11. Torch or headlight (winter photo tours)
The schedule of the trip may be rearranged for the best weather conditions and light at each location, so be prepared to be flexible. This way we can make this tour as successful as possible.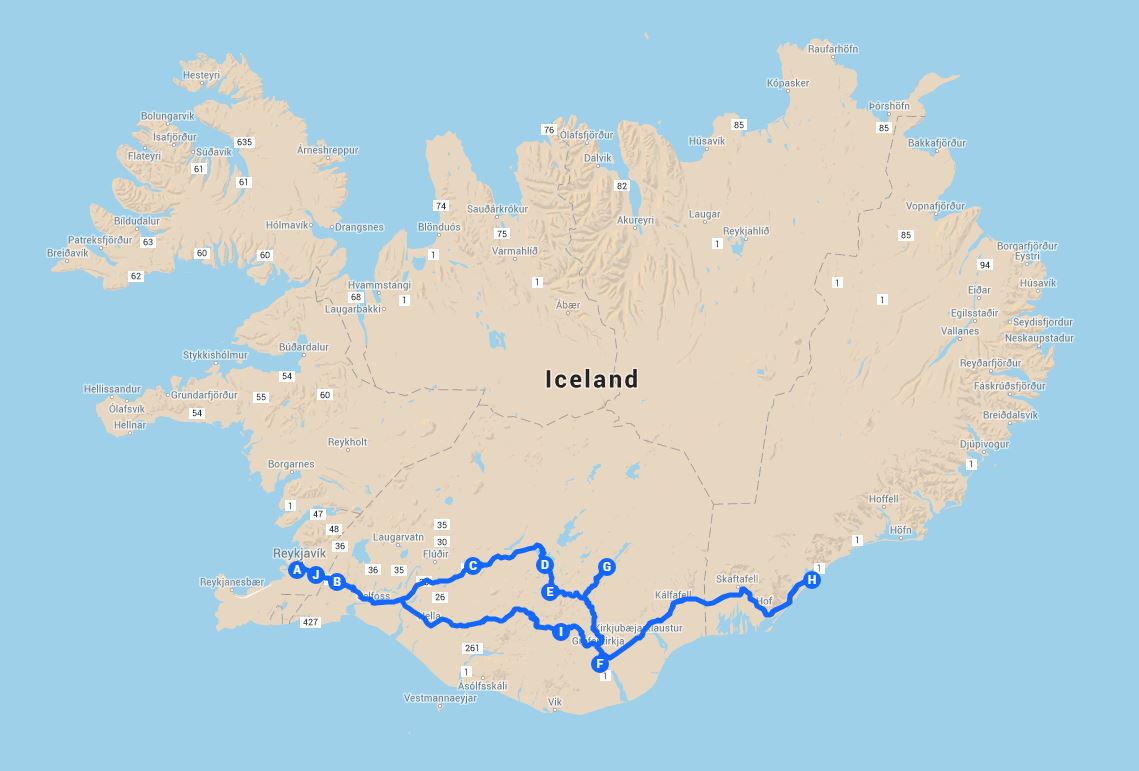 Price:
| Accommodation | Price per person |
| --- | --- |
| Double Occupancy | $5395 |
| Single Occupancy | $6542 |
Departure: August 27 - September 2 2019
Participants: minimum 3 people, maximum 7 people.
Duration: 7 days/6 nights


Views from Highland Adventure Photo Tour
Highlights
The Icelandic Highlands in Summer
Jökulsárlón and Fjallsárlón Glacier Lagoons
Landmannalaugar Geothermal Area and Rhyolite Mountains