Grand Winter Photo Tour around Iceland
During this tour, you will experience Iceland through various weather conditions and have the opportunity to photograph extreme landscapes in ever changing colors. Despite the winter, Iceland is not always covered in snow, and due to the low sun and varied weather conditions between North and South Iceland, the island displays exceptionally beautiful light and contrasts, which give way to plenty of variety in your photographs. We will take advantage of beautiful winter sunrises and sunsets (when presented) which will play a major role in some of the best locations available. We will take Route 1 with a few detours, stopping at the highlights of Iceland´s natural landscape, subject to weather and accessibility during the winter. A big advantage for photographers at this time of the year is that there are fewer people around compared to the summer. During the evenings, we will keep a lookout for the Northern Lights.
Duration: 9 Nights, Winter
Price: From $7,105 per person
Highlights
The Snæfellsnes Peninsula and the Picturesque Kirkjufell Mountain
Northeast Iceland with its Lava Formations, Craters and Geothermal Areas
Vatnajökull Glacier and the Glacier Lagoon in the Southeast
Remote Black Sand Beach and the Reynisdrangar Sea Stacks
Included:
- Accommodation 11 nights in farm hotels and guesthouses during the tour (Not in Reykjavík).
- Breakfast from the second day until the last day, picnic or light restaurant lunch every day, dinners from day one until the second to last day.
- Professional English speaking driver guide and photographer, Vehicle: 4X4 truck (Jeep) and gasoline.
Not included:
- Flight to and from Iceland.
- Transportation to and from airport (although this can be arranged).
- Hotel accommodation in Reykjavík. You will need a pre and a post night in Reykjavik.
- Travel Insurance.
We will stay at farm hotels and guesthouses that offer personal service and home cooked food. Some days we will take packed lunches with us which allows us more freedom in the field when needed. Driving around Iceland in wintertime is like a "box of chocolates, you never know what you are going to get".

Climate and clothing recommendations:
The Gulf Stream is what makes Iceland inhabitable, and without it, the whole country would most likely be covered by ice. The winters are fairly mild and summers are cool. The weather can be unpredictable and very windy and rainy at times. A popular saying in Iceland is "if you don't like the weather right now, just wait five minutes" as you may occasionally experience the four seasons all in one day: sunshine and mild temperatures to windy, cool temperatures with rain or even snow. The average temperature in January is 0 C (32 F) and the average temperature in July is 12 C (54 F).
In the view of the climate description above, we can only advise visitors to be prepared for everything. No matter what time of year you plan to visit Iceland, always pack some warm and water resistant clothes, hats, gloves and good walking shoes.
Clothes:
Practical list, independent of the season of the year
1. Warm underwear
2. Sweater or a warm jacket/coat
3. Wind- and waterproof overcoat and over trousers
4. Extra pair of warm socks
5. Gloves and a cap
6. Hiking shoes (waterproof boots for winter photo tours)
7. Slippers and possibly light trainers
9. Sunglasses (optional!)
10. Electric converter (Iceland uses 220 volts)
11. Torch or headlight (winter photo tours)
The schedule of the trip may be rearranged for the best weather conditions and light at each location, so be prepared to be flexible. This way we can make this tour as successful as possible.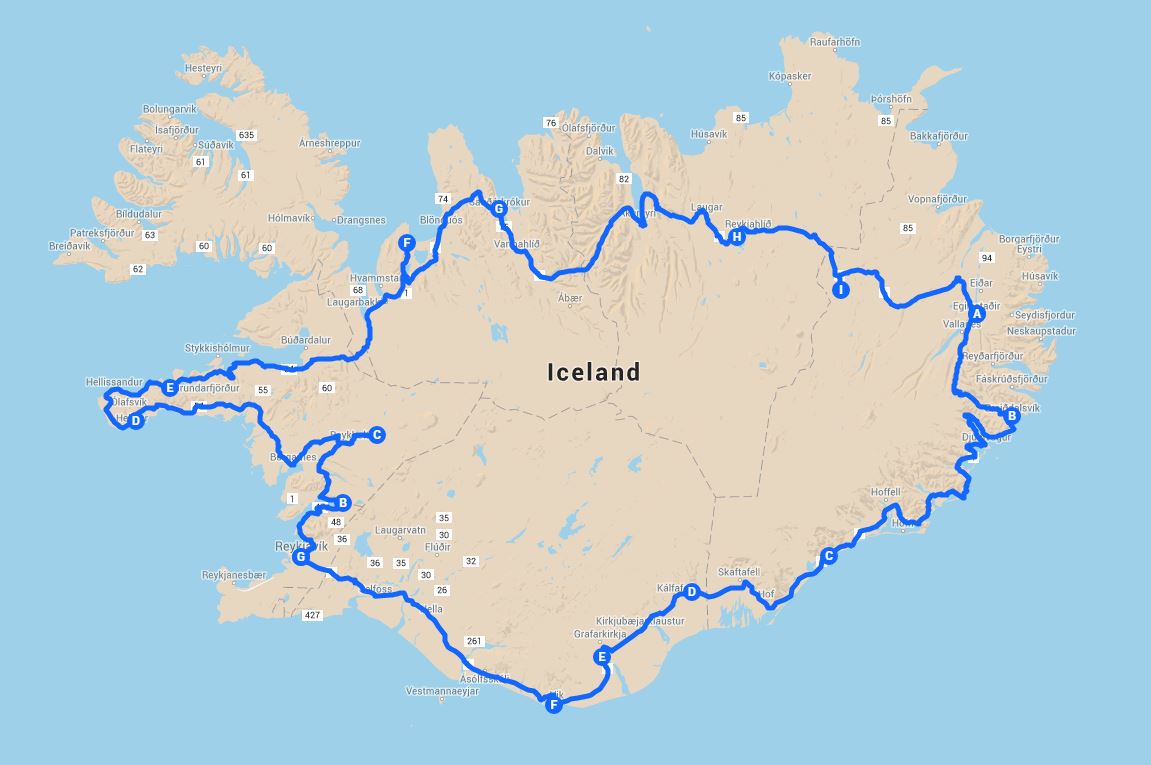 Price:
| Accommodation | Price per person |
| --- | --- |
| Double Occupancy | $7105 |
| Single Occupancy | $7,816 |
Scheduled departure: January 29 – February 7, 2019. Please note: Minimum number of  participants is 6. Maximum number of participants is 9.
Participants: min 6, max 9
Views from Grand Winter Photo Tour around Iceland
Highlights
The Snæfellsnes Peninsula and the Picturesque Kirkjufell Mountain
Northeast Iceland with its Lava Formations, Craters and Geothermal Areas
Vatnajökull Glacier and the Glacier Lagoon in the Southeast
Remote Black Sand Beach and the Reynisdrangar Sea Stacks