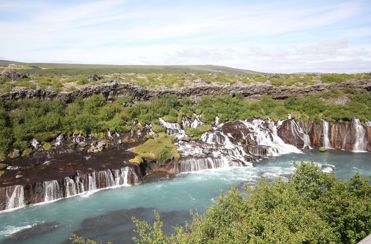 The West
The saga valley of western Iceland
BORGARFJÖRÐUR A region often referred to as "the saga valley of western Iceland" since it served as the stage for many significant events in the literary masterpieces that Iceland is known for. Home to Hraunfossar, a remarkable series of waterfalls formed by water emerging from a porous lava field, and Barnafoss, a cluster of robust rapids with a tragic story behind their name. Landnámssetur Íslands is a musuem in Borgarnes featuring two fascinating installations: one focuses on the Viking settlement of Iceland, and the other one illustrates Egil's Saga – a colorful story about one of Iceland's most legendary poets.

REYKHOLT A true cultural center, Reykholt was home of one of the most important people in Icelandic history: Snorri Sturluson. A famous historian, poet, and politician during the Middle Ages, he penned some of Iceland's most celebrated sagas and his detailed records of the Old Norse language and medieval Icelandic mythology are regarded as invaluable.

EIRÍKSSTAÐIR A living museum that transports you back to the Viking Era and marks one of the most historically significant places in Iceland. The famous Eiríkur rauði (Eirík the Red) lived here in the 10th century prior to be exiled for murder. He then spent that time establishing a Norse settlement in Greenland and is credited with naming Greenland as such in order to entice people to settle there. His son, Leifur Eiríksson, is believed to be the first European to set foot in North America.